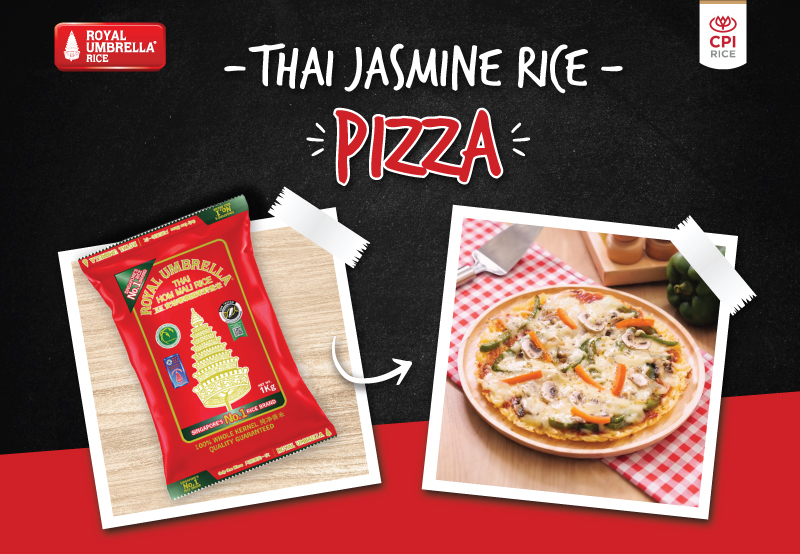 Did you know you can use leftover Thai jasmine rice as a pizza crust instead of dough? Not only it is tasty but you can also help the world by reducing food waste. If you have a leftover rice from your dinner, try this menu out!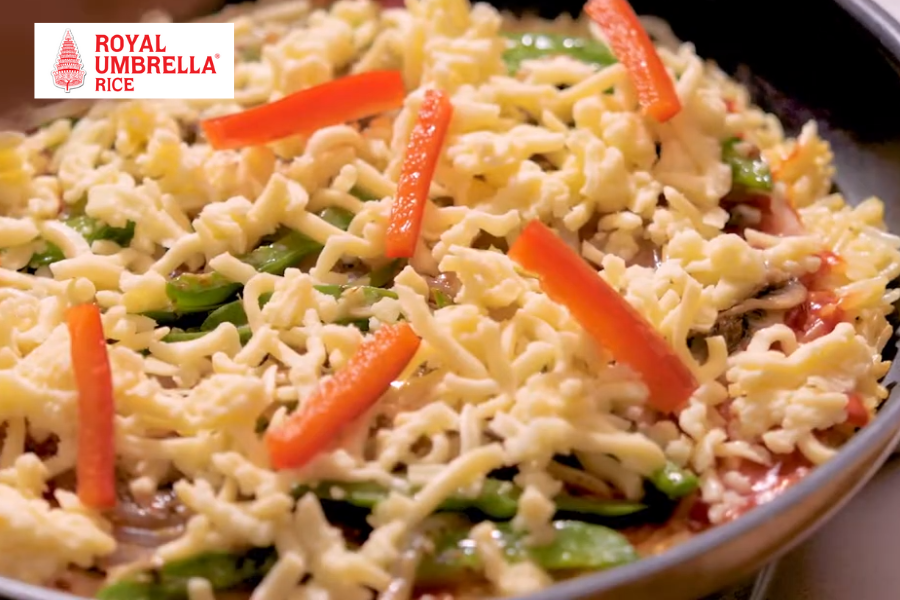 Ingredient
1 cup Royal Umbrella Thai Jasmine Rice
1 tbsp Unsalted Butter
1 tbsp Garlic
1 bulb Onion
1 Green Bell Pepper
75 g Champignon Mushroom, Salt
1 tbsp Italian Herb
2 Eggs
60 g. Parmesan Cheese
2-3 tbsp Ketchup
Mozzarella Cheese
Red Bell Pepper For Garnish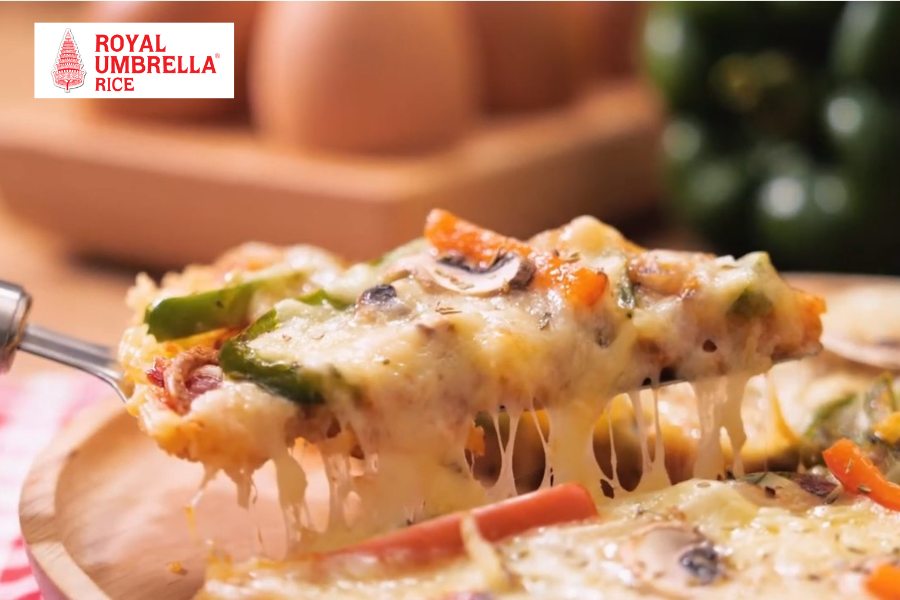 How to cook
Measure 1 cup of Royal Umbrella Thai Jasmine Rice in a ceramic bowl.
Rinse the rice with clean water. fully drain through a strainer.
Add 2.5 cup of water in a ceramic bowl, close the lid.
Turn on a microwave , set the heat at 900w for 15 minutes.
Push the start button.
When the time is up. Let it sit in a bowl for 15 minutes.
Then fluff the rice with a ladle. Royal Umbrella Thai Jasmine Rice
Keep in Fridge
Puff Unsalted Butter 1 Tbsp ,Garlic 1 Tbsp,Onion 1 bulb,1 Green Bell Pepper,Champignon Mushroom 75 g,Salt for seasoning,Italian Herb 1 Tbsp
mix Thai Jasmine Rice 250 g ,2 eggs ,Parmesan cheese 60 g,
Add and evenly spread the rice over the pan.
Use low heat.
Close the lid for 10-12 minutes.
Coat Ketchup 2-3 Tbsp
Add the stir-fried ingredients
Sprinkle mozzarella cheese ,red bell pepper for garnish,champignon mushroom.
Close the lid again.Bake until cheese is melted.
If you strictly follow the manufacturer's instructions, you are sure to enjoy the soft and tasty Thai jasmine rice. If you are looking for Thai jasmine rice products, you can contact us through the channels below. We are available 24/7 to provide advice and consultation. Or, if you need a recipe that contains Thai Hom Mali jasmine rice, we have put together a Thai Hom Mali rice review at RU Hungry.
Related articles
Contact us
Tel : +662 764 7000 , +662 764 7070
Email : Contact@cpintertrade.com
Facebook : Royal Umbrella
Instargram :Royalumbralla_rice
Youtube : RU Hungry